Prestige Cleaning Services
All your surface preparation needs under one roof
We undertake a wide range of surface restoration projects and have extensive experience of working with brick, stone, steel, wood, render, cladding and uPVC surfaces.
Blast cleaning
Blast cleaning can be used to clean away dirt and debris, strip off rust, paint and varnish, and remove graffiti and chewing gum. It's also an effective way to remove soot and to treat fire and smoke damaged wood or masonry.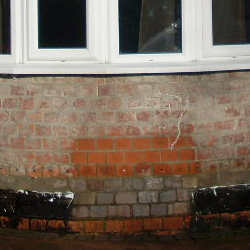 Blast cleaning is highly versatile. Many different abrasives are available to suit different surface types and purposes, and we'll take care to select the right abrasive for your job. Options include:
Traditional sand-blasting, which can be used on many different surfaces
Wet abrasive blasting, e.g. dust-free sand blasting, to minimise mess
Jet blasting, which uses high-pressure water jets to remove paint or chemicals
Blasting using steel shot or grit particles, usually to clean wood and metal surfaces
Mineral blasting using natural materials such as olivine, which is ideal for cleaning stainless steel
Blasting with fine particles of ground glass, walnut shell or eggshell for more sympathetic cleaning needs.
After blast cleaning, we can add a micro-porous coating to your surface which will protect it from the elements whilst allowing the substrate to breathe. The coating will also help prevent the formation of damp, mould and condensation inside the building.
Steam cleaning and pressure washing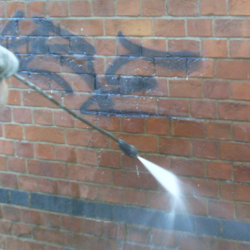 Steam cleaning applies very little pressure to the surface being treated, so it's an ideal way to treat vulnerable surfaces such as old stone or brickwork. It's a clean and effective way to remove dirt, paint or graffiti from any type of surface.
Pressure washing is a similar cleaning method that uses cold water rather than hot steam. It can be used on less delicate surfaces and those that require more pressure to achieve the desired cleaning result.
Chemical cleaning
As a non-abrasive cleaning method, chemical cleaning is ideal for delicate surfaces that might be damaged by blast cleaning. It can be used to remove paint, graffiti and other stains or coatings. We always use biodegradable chemical cleaners that won't harm the environment.
Stone repair and brick replacement
When restoring a building, or if render or cladding has been removed, it's often necessary to repair stonework or to replace damaged and missing bricks. For older buildings, we can supply high quality materials and re-point using a traditional lime mortar mix to blend in with the original brickwork or masonry. Our skilled repairs will leave your walls safe and ready for you to continue with restoration.
Contact us for a competitive quote
Contact us today to find out more about our services, or to request a no obligation quote. Or view our Photo Gallery to see some examples of our work.
Our Work

Our services include

Traditional sand blasting
Wet abrasive blasting, e.g. dust-free sand blasting
Shot blasting and grit blasting
Olivine and mineral blasting
Walnut and eggshell blasting
Pressure washing and steam cleaning
Chemical cleaning.

Archives